Hangzhou, the capital of Zhejiang Province in China, is known for its scenic West Lake, vibrant night markets, and tea plantations. It is a bustling city with a rich cultural heritage and a modern economic landscape. Hangzhou is also home to a talented pool of filmmakers, camera crews, and videographers who provide world-class filming services for corporate videos.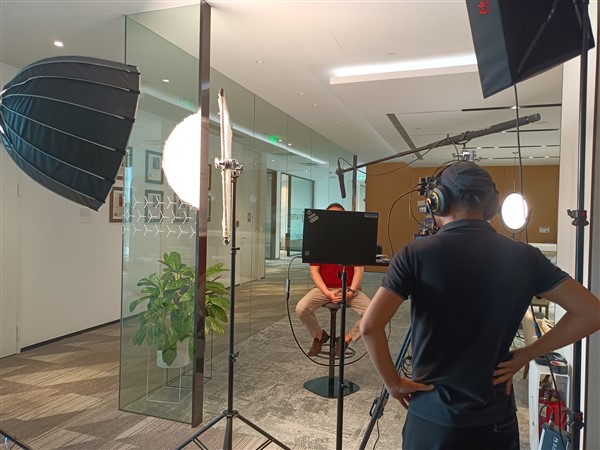 If you're looking to create a corporate video that showcases your brand, products, or services, Hangzhou has the filming support you need. From pre-production planning to post-production editing, the camera crews in Hangzhou provide end-to-end filming services that are tailored to your specific needs. Whether you need a cameraman to film interviews, a drone operator for aerial shots, or a lighting technician for studio shoots, the camera crews in Hangzhou can provide the expertise you need.
Hangzhou is also a hub for many nearby cities in Zhejiang Province. These cities, such as Jianggan, Xiaoshan, and Shangcheng, offer diverse landscapes and cultural experiences that can add depth and variety to your corporate video. From factory shoots to outdoor scenery, the camera crews in Hangzhou and nearby cities can help you capture the essence of your brand and communicate your message effectively.
The film crew in Hangzhou and Zhejiang Province have experience working with a wide range of industries, including technology, fashion, manufacturing, and tourism. They are skilled in understanding the unique needs of each client and providing customized solutions to achieve their video production goals.
One of the key advantages of working with camera crews in Hangzhou is their familiarity with the local culture, language, and regulations. This helps to streamline the filming process and ensures that all necessary permits and permissions are obtained. The camera man in Hangzhou are also well-versed in the latest video production equipment and techniques, ensuring that your corporate video is of the highest quality.
When working with a camera crew in Hangzhou, it is essential to have a clear understanding of your video production goals. This includes identifying the target audience, messaging, and budget. The camera crews in Hangzhou can provide guidance on how to achieve your goals while staying within budget constraints.
In addition to filming services, the camera crews in Hangzhou can also provide logistic support, such as equipment rental, transportation, and accommodation. They can also provide fixers who are familiar with the local area and can assist with any necessary arrangements.
In summary, Hangzhou and nearby cities in Zhejiang Province offer a wealth of opportunities for corporate video production. The camera crews in these areas are experienced, knowledgeable, and skilled in providing end-to-end filming services for a wide range of industries. With their help, you can create a corporate video that effectively communicates your message and showcases your brand to the world.